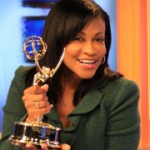 INDIANAPOLIS, IN – The American Legion bestowed its coveted American Legion Fourth Estate Award to FOX16's Donna Terrell as the 2012 recipient for broadcast stations.
FOX16's Donna Terrell received the award for outstanding achievement in the field of Journalism during the organization's 94th National Convention in Indianapolis August 30th.
According to the American Legion, Donna Terrell took top national honors in the broadcast category with her touching reports, "Grieving a Child." Having recently lost her daughter, Donna poignantly captured the emotional trauma of the Smith family from Ward, Arkansas. The Smiths recently lost their small son to brain cancer and Donna provided valuable information about dealing with the painful process of losing a loved one.
"Donna Terrell's endured this tragedy with such poise and professionalism; she's demonstrated what strength and courage are all about. Today we celebrate our teammate's accomplishment on a level that's befitting of a national award, yet tempered by the heartfelt sympathy we have for the untimely loss of her daughter, Queah," says Chuck Spohn, VP/General Manager of KLRT and KASN.
"FOX16 News strives every day to make a positive difference in people's lives. After the personal loss of her daughter, Donna produced these award winning reports to help other families deal with their grief," says Ed Trauschke, FOX16 News Director.
"After Queah died I struggled through this complicated grief process. I thought maybe by some small measure sharing what I learned on my journey through my special reports could help others. In my heart I feel that goal was accomplished. Receiving this national honor is a bonus," says Terrell.
Previous winners of the award include Dateline NBC, C-SPAN, United Press International, USA TODAY, The Detroit News, Fortune Magazine, ABC News, and Life Magazine, among others. The nation's largest veterans organization, The American Legion was founded in 1919 on the four pillars of a strong national security, veterans affairs, Americanism, and patriotic youth programs. Legionnaires work for the betterment of their communities through more than 14,000 posts across the nation.
Donna has also received a regional Emmy Award and a first place Associated Press Award  for the same reports on Grieving a Child.
Donna can be seen anchoring the news on FOX16 News at  5:30PM and 9PM.