Sometimes it seems so unreal that my mind tells me it's just a horrible dream and when I awaken life will be back to normal – the way it's suppose to be, the way it use to be.  We'll pick up right where we left off and everything will be fine.
My guess is, we'll start with me planning another trip to Houston.   I'll call her and tell her when I'm coming.  When I arrive she'll pick me up at the airport and I'll be so happy to see her again.   It seems every time I see her after it's been a while she looks so very young, so very pretty.   I'm always amazed that I had something to do with creating this person – this well educated, well traveled, dynamic and vibrant young woman.  I find myself amused at how she's figured out how to navigate this big city with a nice home, a great career and a bright future.  During this visit she will have planned so many things for us to do.  At the top of the list, restaurants, shopping and movies… or maybe this time she'll surprise me with something special like a day at the spa or she'll cook one of her fabulous meals.   Maybe for this trip she'll take me to see some live entertainment – she always liked that sort of thing.   We'll have so much to talk about  – so many things to say to catch up.  It's always like that.  Even though we talk a lot on the phone, it's not the same as when we're together.   At some point her friends will  call and she'll tell them "mommy's here" and then without missing a beat she'll say, "say hi to my mom" and quickly hand me the phone before I can say "I don't want talk to them".   If by chance they want to visit or go out somewhere she'll agree to it as long as they know it has to be something mommy wants to do.
As always, my little girl will want to go shopping.  There's something about "mommy therapy" and "retail therapy" that go hand and hand.  It doesn't matter if I say this is not one of those "money spending visits".  She'll just say okay  – and the next thing you know we'll be at the Houston Galleria buying stuff.  That's just how it goes.
We both have a passion for movies! My visit to Houston will center around what's playing at the theater and then we'll go to a Red Box and pick up several new releases because she doesn't have cable.  Her excuse is that all of those cable channels take her away from doing important things.  My thought is, how can you live without cable?  We'll go back and forth on that for a while before deciding on which movies to watch.
It's a familiar story but sadly reality sets in and I realize that the horrible dream is not at all a dream.  And even though I try to remember the good times – they are only memories and do little to fill the empty space.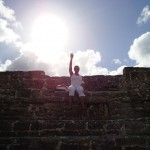 I am writing this story on Mother's Day and yes, I'm especially emotional today.  Brandi called a few minutes ago.  She and Queah go way back to when they were little girls.  They reconnected a few years ago thanks to Facebook and Brandi is one of the people Queah would talk to on the phone  in the middle of night when the pain from cancer and all the medication kept her awake.   They would talk about the past, the present and hopes for the future.  Brandi thinks of me often and calls to check on me and didn't want this day to pass without calling.  There are times I wish I could just say "thanks for calling, I'm so glad you thought of me".   However, many times I find myself in a puddle of tears by the end of the conversation and a little embarrassed that I cried so much.   During this call, for a brief moment I believed if Brandi and I tried hard enough we could wish Queah back to life.  Yes, it's been over a year and as much as I try not to give in, my mind still takes me back to that place – a place where I believe she's coming back.   They call that "place" denial.   Through my tears I did tell Brandi there must have been something that went incredibly wrong with the Universe that would allow something so unthinkable to happen.   Over the last year I've said over and over to anyone who'd listen "how could something so horrible happen?".   Even though they try no one seems to have a satisfactory answer to that question.   I hope the Universe knows it took away  the one person who really mattered to me.
Through all of this, I've come to believe the reason Queah is gone –  instead of me – is there's something left here on this earth that I must do.   It is something unfinished, something undone and it must be pretty darn important.  If only I knew what it was.  I do have many things that I want to do – many things that I need to do –  and some things I must do so I better get busy.  Creating this blog is one of them and I'm so glad you took the time to read it.  So perhaps somewhere in completing some of these things that I want, need and must do – I will accomplish the important thing that I am left here to do.