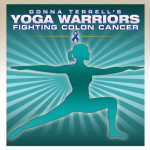 I have always been a little curious about the art of meditation. Some say it helps to keep you focused. Others become more peaceful, less worried, more appreciative and attentive to things in their lives. So – to satisfy my curiosity I went to Wess Pilcher, a guy who I like to refer to as a meditation guru. He's co-owner of Arkansas Yoga Collective on Cantrell Road in West Little Rock and in addition to teaching yoga he leads a meditation class each week.
I had a nice conversation with Wess where he made meditation sound simple. His words – "if you can breathe you can meditate". This from a person who's been practicing this art for over 20 years. Wess told me anything you do with "complete awareness" and no distractions can be considered meditation. That whole thing about stopping all thoughts from running through your head is not really the the goal although it can be the more you practice. But the key is to have a few simple thoughts while at the same time utilizing a breathing technique. You also want to make sure you have no distractions and when your mind begins to wonder you get back to those few simple thoughts. If you do it right, I'm told you typically feel peaceful and calm – even happy. Imagine that?
I interviewed an Oncologist for "Donna Terrell's Yoga Warriors Fighting Colon Cancer" which is a charitable organization I developed after my daughter died from colon cancer. The physician said in addition to yoga, meditation is a useful tool for people battling all sorts of diseases and chronic illnesses. That would include cancer but other illnesses like arthritis too.
This year's 3rd annual Yoga Warriors free community-wide yoga event is Saturday April 16th, 10AM at the Doubletree Hotel in downtown Little Rock. Each year we raise money to buy liquid nutrition for Arkansans battling different types of cancer. I have discovered there is a huge need in our community for this kind of help. The event is free to anyone but we do take donations and it's tax deductible. And here's the kicker – Wess will give us 15-minutes of meditation practice immediately following our yoga practice. So imagine, as you're laying on the mat relaxing at the end of the yoga session, Wess will seamlessly take the helm and show us how to relax even more.  So invite a friend and come join us this year. It's a good way to give a little and get a lot.